EGG RECIPES

Eggs are an easy and versatile food source in any kitchen and this is particularly true for novice cooks. Eggs are delightful creatures and should be cooked with care and respect. If you see someone treating one harshly, you will know that they have not yet learned the first lesson in egg-cookery --- treat your eggs gently!
In most countries, eggs are available in sizes from 1 (large) to 6 (small). If you have some in your refrigerator and are not certain how fresh they are, give them "Graham's Water Test". Place the egg(s) in question into a dish or bowl of water. If they float then they are 'suspect' and you should get rid of them. If they remain submerged, they're OK for eating.
  *** EGG RECIPES ***  
ALL EGG RECIPES
What To Eat Tonight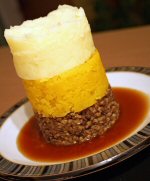 105 Unusual Recipes
There are lots of recipes for some foods, but here we offer a selection of recipes that are truly out of the ordinary. You'll be amazed.

44 Poultry & Game Birds
Whether it's a chicken or a partridge, a turkey or a pheasant, we have a recipe that will help you get the very best from your food.

74 Easy Beef Dinners
Beef and Veal are so versatile, yet can be easily spoiled by using the wrong recipe. We offer you lots of really delicious options.