SOUPS

There are many good tinned and carton-packed soups on the market that are ideal when you first venture into a kitchen. I am acutely aware that, to begin, the idea of making a soup may sound a little ambitious but there are many basic soup recipes that are simple and can often make use of ingredients that would otherwise be wasted. For simplicity take a look at our
Chicken Vermicelli Soup
that takes just seven minutes to make from start to finish.
What To Eat Tonight

150 Recipes for Entertaining
That moment when you decide to invite friends, relatives or you boss and partner to dinner and you know you need to turn up the originality.

33 Beautiful Baking Recipes
To some people, baking is one of life's mysteries. We make it easy and tasty with our selection of recipes that will please everyone.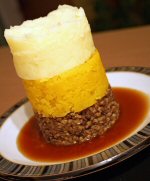 99 Unusual Recipes
There are lots of recipes for some foods, but here we offer a selection of recipes that are truly out of the ordinary. You'll be amazed.
Recipes That Are Trending Now