FISH, SHELLFISH & CRUSTACEANS

Fish meals are healthy and nutritious, containing an excellent source of minerals, protein and vitamins. Most methods of cooking fish take just a few minutes. They can be steamed, poached, grilled, fried or filled with tasty stuffing and baked in the oven. There are also a whole variety of
sauces
to compliment their flavour and texture.
On the other hand fish has become more expensive over the last decade or more and cannot now be classified as a cheap way of eating. However, if you take a small white fish, wash it, add a small knob of butter and grill it for a few minutes, you have a ready-made meal in exactly the right proportions. You cannot say that about many foods.
To the first-time cook, fish can be a bit of a mystery. There seem to be too many different varieties, shapes, colours and methods of cooking. For that reason, (for whatever it's worth) I offer my wisdom on
choosing and buying
,
preparing
and
buying and preparing mussels
- in addition to the selection of easy recipes below. I would also recommend that, if you live in North America, you read the
observations on prawns (shrimp)
that may just make you stop and think.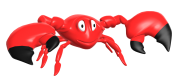 CHOOSING AND BUYING FISH
There are many types of fish available but generally, they fall into one of five categories...
White fish such as cod, plaice, turbot and hake
Oily fish such as sardines, herring and mackerel
Hinged shellfish such as mussels, oysters, clams, cockles
Jointed shellfish such as crabs, lobsters and prawns
Freshwater fish such as trout, salmon and carp
Gone are the days when fish would become unfit for use after several days in warm storage. Nowadays, thanks to refrigerated transport and equipment, buying fresh fish is much easier. It is, however, worth paying a few cents more to use a good fishmonger who knows his profession. And you should still check to make sure, though, by looking for the following signs...
APPEARANCE.  
The overall colour should be bright and shiny with the appearance that the fish has just been caught and might still be alive. The scales should be glossy and firmly attached.
EYES.  
These should always be bright and bulging with black pupils. Never buy a fish with sunken eyes.
FIRMNESS.  
When buying fresh fish, press your finger into the flesh in the side. It should immediately spring back, and not leave an imprint. If buying fish already cut into cutlets, fillets or steaks, the flakes should be nice and firm and not discoloured. Older pieces will look dried or curled-up or be flabby and yellowish.
GILLS.  
These should be clean and a healthy reddish-pink.
SMELL.  
We all know that a fish smells 'fishy', but it should be a pleasing, mild smell of the sea, not an offensive odour. Reject anything with an unpleasant smell, it is almost certainly well past its best!
PREPARING FISH
The easiest way is to ask your fishmonger to prepare the fish for you (which they are usually pleased to do). In this case ask to keep the waste items like skins and bones since they can be used for making good fish stock for the sauces.
If you do buy whole fish and need to clean (gut) or skin or fillet them, you may find the following instructions useful.
To clean (gut) a round fish...  
Use the tip of a small, sharp knife or scissors and, starting at the small vent at the tail-end of the belly, make a cut along the base of the belly towards and as far as the head. Take care not to puncture the innards since their contents may taint the good flesh.
Use your fingers to ease out the innards then wrap them in old newspaper and discard.
Wash the inside of the fish under cold, running water and use your thumb to scratch away any dried blood from the backbone. Pat the fish dry with soft kitchen paper.
If you are cooking a whole fish, snip off the gills with a pair of scissors since they often have an unpleasant taste.
SEE OUR SEPARATE PAGE ON CLEANING SARDINES
To fillet a round fish...  
Place the fish on a flat surface or chopping board with its tail towards you. Hold the fish steady with the palm of your left hand (if you are right-handed).
Working with a sharp knife, make a semi-circular cut around the base of the head, following the bone structure.
Slice along the backbone from the head to the tail (you will be able to feel the backbone while cutting if your knife is on top of it).
Starting again at the head, lift the fish gently at the point where the first two cuts meet, insert the point of the knife and cut the fillet away from the body, keeping the knife close to the rib bones but avoiding cutting through or breaking them.
Turn the fish over and repeat the process to remove the second fillet.
You may have to persevere with this for the first few times you do it since it is a skill that is only acquired by use. The world champion fish filleter takes only three quick strokes to fillet a whole cod! I take about 15 and I think I'm pretty good! So don't despair and don't be put off if it doesn't work perfectly first time.
To skin a fillet of fish...  
Place the fillet, skin side down, on a flat surface or chopping board with its tail towards you. Make a small snip into the flesh (between the flesh and the skin) at the tail end, then insert a sharp knife.
Whilst holding the tail-end of skin with one hand, hold the knife at an angle almost parallel to the fish (to avoid cutting the skin) and work it in a sawing fashion down the fillet.
Keep the skin taught by pulling while you slice. You can stop from time-to-time to get a grip on the skin close to where you are cutting, and also you can fold back the fillet to see how you are doing.
GRAHAM'S HOT TIP
If you are cleaning or skinning a fish and it keeps trying to escape, hold it with a cloth or a piece of kitchen paper, or even dip your fingers in salt to help you keep a grip on it.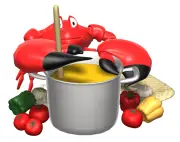 COOKING FISH
Fresh fish already has a delicate flesh so it is cooked in order to develop its flavour rather than to make it more tender (as with other meats). For this reason, all fish should be cooked gently over a moderate heat and only for a short time. The following cooking methods are the best for fish.
BAKING.
(suitable for whole fish, steaks or fillets)
Gentle baking is kind to the delicate texture of fish and has the added advantage of keeping cooking smells to a minimum. Additionally, with the addition of herbs, wine, seasoning, stuffing or stock, the fish cooks in its own juices and remains beautifully moist.
Wash the fillet and pat dry using soft kitchen paper.
Place the fish in an ovenproof dish and add liquid such as water, milk, fish stock or wine.
Add flavourings like finely-chopped onion, celery or carrot, herbs or sliced lemon.
Cover the dish with a tight lid or aluminium foil.
Cook in a preheated moderate oven (Mk4 - 350ºF - 180ºC) for about 15-20 minutes.
Remove the fish from the liquid using a flat fish slice.
Use the liquid to make a sauce.
BRAISING.
(suitable for whole fish, steaks or fillets)
Braising, like baking, is kind to the texture and flavour of fish. The difference between the two is that, with braising, more ingredients like vegetables can be used, which helps to mingle the flavours and produce an 'all-in-one' fish dish. However, because vegetables take longer to cook than fish, they should always be part-cooked before the fish is added.
Wash the fillet and pat dry using soft kitchen paper.
Chop some prepared vegetables (like onion, celery or carrot) and brown them in a little oil in a casserole dish.
Add fish stock, wine or a mixture of wine and water and bring to just under simmering point.
Cook the vegetables until they about (or just over) ½ cooked.
Add the fish either as skinned fillets, cutlets or large chunks.
Cover the dish with a tight lid or aluminium foil. Continue to braise on top of the stove for about 20 minutes or in a preheated moderate oven (Mk4 - 350ºF - 180ºC) for about 25-30 minutes.
Serve the fish straight from the dish, or remove carefully and arrange on a warmed serving plate. (If serving straight from the dish, take care that the fish doesn't overcook since, in a casserole dish, it will continue to cook a little after being removed from the heat.)
FRYING.
(suitable for small whole fish, steaks or fillets)
If your frying is correctly done, the result should be a light, crisp finish to the fish with a minimum of residual oil. Always use a good quality clean oil like sunflower or corn oil and avoid using lard or blended vegetable oils.
Wash the fillet and pat dry using soft kitchen paper.
Coat the fish in dried breadcrumbs, oatmeal, sesame seeds or flour.
Heat a little oil or butter in a frying pan.
Cook the fish according to the table below


Fillet Thickness
Cooking Time
Fat

Thick

- 1" (2.5cm)
5 minutes on each side
1 tablespoon olive oil or vegetable oil

Medium

- ¾" (2cm)
4 minutes on each side
½ tablespoon oil & ½ tablespoon butter

Thin

- ½" (1cm)
3 minutes on each side
1 tablespoon butter

Remove the fish from the liquid using a flat fish slice and place the fish on a piece of soft kitchen paper to absorb any excess oil.
GRILLING (BROILING).
(suitable for whole fish, steaks or fillets)
Grilling or Broiling is the simplest, quickest and most efficient method of cooking fish. It is suitable for all types of fish although larger ones like herring or mackerel should have diagonal slashes made with a knife down each side of the back (the thickest parts) to allow the heat to penetrate properly. Oily fish like sardines and sprats can be grilled just as they are, whilst white fish need to be basted with a little oil or butter from time to time.
Wash the fillet and pat dry using soft kitchen paper.
Brush the fish with a little oil.
Preheat the grill.
Oil the grill rack to prevent the fish from sticking.
Cook for 3-5 minutes on each side (depending upon the thickness of the fish). Always have a pair of tongs handy to turn the fish.
If you are cooking whole fish, leave the heads and tails on whilst grilling so that the body remains moist and juicy.
POACHING.
(suitable for whole fish, steaks or fillets. Particularly suitable for large fish)
Poaching is often associated with bland, tasteless food. However, if you abide by my two following golden rules, you will find that poaching is well suited to most varieties of fish...
When poaching... never overcook your fish
When poaching... never allow the liquid to boil
Wash the fillet and pat dry using soft kitchen paper.
Place the cooking liquid in a large frying pan (the cooking liquid can be water, milk, wine or fish stick).
Add any flavouring such as lemon slices, bouquet garni or mixed herbs.
Warm the liquid the place the fish carefully into it.
Bring the liquid to just under simmering point and cook for 5-10 minutes for fillets or about 5 minutes per 1lb (450g) for whole fish.
Remove the fish from the liquid using a flat fish slice.
GRAHAM'S HOT TIP
To remove fish from a poaching pan can be quite tricky due to its soft texture. To avoid damaging poached fish, make two or three 'strap handles' out of double-thickness aluminium foil folded into strips of about 1" (2.5cm) width. Lay these across the bottom of the pan making sure that they are long enough to also hang over the sides. Cook the fish on top of this 'cradle' then hoist out the cooked fish using the foil 'handles'.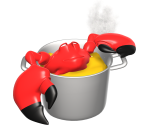 COOKING TIMES
The basic principles of cooking fish are that they should be cooked as quickly as possible to preserve their moisture, and that they should never be overcooked. To test that a fish is cooked, carefully poke the tip of a knife into the flesh. If cooked, the flesh will appear opaque and will ease away from the bone without difficulty. With white fish, a milky curd appears when it is cooked.
A simple 'rule of thumb' for cooking times is to lay the fish on a flat surface and measure it at its thickest point. For each 1" (2.5cm) of thickness, allow 10 minutes of cooking time. Obviously this rule does not apply to very small pieces of fish that cook in just two or three minutes.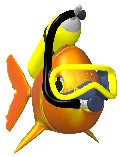 BUYING AND PREPARING MUSSELS
In some countries, mussels (and other shellfish) are sold in pints or litres whilst elsewhere they are sold by weight. If, like me, you grow to love mussels, you'll need to allow about 750g or 2 pints (1¼ litres) per person (unless you are serving them as a starter course, in which case you can halve that quantity).
There is an old adage that one should only buy mussels during the months with an r" in them (i.e. September through to April). Whilst this is not a golden rule, it is a reasonable standard since the mussels always taste much better during those months.
Mussels should be tightly closed before cooking and the shells should open when cooked. If, when cleaning them, the shells are slightly open, give them a little tap. If they don't close within a few seconds, they are probably dead and should be discarded. Also discard any mussels that have broken shells or that do not open when cooked.
When cleaning mussels, scrub each one with a small nailbrush (I keep one just for the purpose) and scrape off any barnacles with an old knife. You'll find that most mussels have a small tuft of "hair" coming out from the shell. This is called 'the beard' and it's what the mussel uses to grip the rocks etc. while underwater. If you pull it sharply towards the 'hinged' end of the shell, you'll find that t usually pulls away (although occasionally, they can be a little stubborn). With modern techniques, mussels are often sold already prepared for the pan.
THINKING ABOUT PRAWNS AND SHRIMP
There's no formal definition between "prawn" and "shrimp". They are both large swimming crustaceans that tend to be called "prawns" in Britain and Commonwealth nations (one-third of the world's population) and "shrimp" in North America (about 7.5% of the world's population). In the UK prawn is more common on menus than shrimp, while the opposite is the case in the United States. The term prawn also loosely describes any large shrimp, especially those that come 15 (or fewer) to the pound (such as king prawns or jumbo shrimp).
But the bad news is that it's very hard to find really fresh shrimp in the United States (or to know just how wholesome the shrimp you're buying really is). Shrimp is the most popular seafood in the US (1.3 billion pounds of it are consumed annually) but almost 90% of the shrimp eaten in USA is imported from places like Thailand and Vietnam, where shrimp farming is big business and the word 'industry' is considerably more accurate than 'farming'. In these massive factory-like compounds, "preventitive" doses of antibiotics and hormones are administered as the norm, often using antibiotics that are not permitted in US. However, since less than 1% of all seafood imported into USA is tested for contaminants there's no way of knowing whether or not the shrimp you buy are polluted in some way.
Concerned consumers have two other options for buying shrimp. One is to get only wild-caught American shrimp (which can prove quite expensive), and the other is to buy them from one of the handful of environmentally responsible and sustainable indoor shrimp farms that are beginning to appear here and there (also quite expensive). You have to balance cost against health, and it's
your
decision!
What To Eat Tonight

77 Romantic Dinners
Dim the room, light the candles and prepare for something very special and perfect for a romantic evening. Guaranteed to light your fires.

131 Recipes We're Loving
These are our editorial choices that we have tried and really enjoyed. A real mixture of recipes but all of them certain to please.

6 Preserves & Pickles
Jam, jelly, pickle, chutney, dips, sweet and savory preserves, we have them all so that you can easily find exactly what you want.
Recipes That Are Trending Now