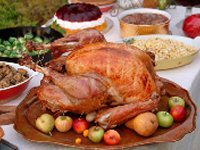 Thanksgiving Turkey


      Preparation Time: 20 Minutes
      Cooking Time: 4 Hours
Ingredients for Thanksgiving Turkey


Currently displaying quantities in
US Imperial
Measurements
to serve many:
1
free range fresh turkey
½
lemon
salt
½
onion
2 oz
butter
1 tablespoon
thyme
1 tablespoon
rosemary
½ bunch
parsley
2
carrots
1 stick
celery
3 - 4 sprigs
fresh thyme
3 - 4 sprigs
fresh rosemary
How to Cook Thanksgiving Turkey
If you can, get a free range turkey - the taste is that much better. And try to go for fresh, not frozen. If you do buy frozen, thaw the bird completely before putting it in the oven. Thaw it in the fridge for a few days (up to four, depending on the size of your turkey).

Remove the neck and giblets (heart, gizzard, liver). Use the heart and gizzard for making stock for the stuffing. The neck can be cooked along side the turkey or saved for turkey soup. Or all of the giblets can be used for making giblet gravy.

Wash out the turkey with water. Pull out any remaining feather stubs in the turkey skin. Pat the turkey dry with paper towels. Lather the inside of the cavity with the juice of half a lemon. Take a small handful of salt and rub all over the inside of the turkey. Mix butter with thyme, salt and rosemary and push it under the skin to help flavour the meat. But don't overdo it - too much fat will just make the meat greasy.

For flavour, place inside the turkey half a yellow onion, peeled and quartered, a bunch of parsley, a couple of carrots, and a chopped stick of celery (some tops and bottoms of celery will do fine). You will probably need to cap the body cavity with some aluminium foil so that the stuffing doesn't easily fall out.

Close up the turkey cavity with either string (not nylon string!) or metal skewers. Make sure that the turkey's legs are tied together, held close to the body, and tie a string around the turkey body to hold the wings in close. The neck cavity can be stuffed with parsley and tied closed with thin skewers and string.

I'm not a great believer in oven thermometers. I think that, once you give yourself time to understand the food and your oven, cooking is like riding a bike, and instinct will take over to guide you to the proper cooking times. However, a turkey can be such a humungous beast that maybe (just maybe) this is one of those times when an oven thermometer would come in useful. Me? I just use the chart below!!

For a stuffed turkey, the roasting time may vary up to 30 minutes, depending upon the bird and the oven. (that's why I will forgive you if you use a meat thermometer to check the temperature of the dressing!). The centre of any meat-based dressing inside the bird (or even in a separate baking dish) must reach a temperature of 165ºF - 75º for food safety.

For an unstuffed turkey, if you plan using a meat thermometer, place it in the thickest part of the thigh, taking care that it does not touch any bone. Roast the turkey until the meat thermometer reaches 180ºF - 85ºC

Roasting times below are for a preheated moderate oven (Mk 3 - 325ºF - 170ºC).

Approximate Roasting Times for Stuffed Turkey

Turkey Weight

Hours

6 to 8lb - (2.7 to 3.6kg)
3 to 3½ hours
8 to 12lb - (3.6 to 5.4kg)
3½ to 4½ hours
12 to 16lb - (5.4 to 7.2kg)
4½ to 5½ hours
16 to 20lb - (7.2 to 9.0kg)
5½ to 6 hours
20 to 24lb - (9.0 to 10.8kg)
6 to 6½ hours
Approximate Roasting Times for Unstuffed Turkey

Turkey Weight

Hours

6 to 8lb - (2.7 to 3.6kg)
2½ to 3 hours
8 to 12lb - (3.6 to 5.4kg)
3 to 4 hours
12 to 16lb - (5.4 to 7.2kg)
4 to 5 hours
16 to 20lb - (7.2 to 9.0kg)
5 to 5½ hours
20 to 24lb - (9.0 to 10.8kg)
5½ to 6 hours

Now, having said that those cooking times are fine at 325ºF - 170ºC, I like to start the turkey off for the first 30 minutes at Mk 6 - 400ºF - 200ºC with the breast upwards, so that I get a nice crispy skin without compromising tenderness. Place the turkey on a rack at the bottom the oven over a roasting pan big enough to catch all the drippings. Add several sprigs of fresh thyme and rosemary to the outside of the turkey. After 30 minutes, reduce the heat and turn the turkey over so the breast side is down, and finish cooking in this position. This is important because it keeps the breast meat moist and succulent.

Basting the bird won't give you crispier skin. In fact, you'll get limp, soggy skin and it only marginally affects the flavor. But placing the turkey direct on a roasting rack allows air to circulate under the bird, crisping it all over.

Let your bird rest after you take it out of the oven. A good 20 minute nap will let everything settle and keep the moisture where it belongs - in the meat. To absolutely guarantee that the breast will be moist, let the slices soak in the bird's juices for a few minutes after they've been cut. (This includes the fatty runoff from what you've rubbed over the surface or stuffed under the skin.)

And finally, don't waste the juices in the bottom of the pan! Ladle off excess fat with a spoon and save for possible use later. Place the rest of the juices in a saucepan with a little white wine, a pinch of fresh thyme and rosemary, add a little cornstarch to thicken and you've got an amazing gravy.
GRAHAM'S HOT TIP:
When you are finished with your turkey, save the bones from the carcass to make a delicious turkey soup, or white stock.
 
GRAHAM'S WINE RECOMMENDATION:

Best with turkey is a full-bodied white or a medium-full red wine, but the lack of fat in the meat means the wine must not have too much tannin (tannins react poorly with fatty protein molecules). So, for red wine fans, a top-quality Californian Zinfandel or a Beaujolais Cru would be the best choice. Even a mature Claret or Rioja would work well - aged wines have less tannin. A full-bodied Chardonnay or white southern Rhône is a good choice for white wine lovers. Their roundness and weight will match the smooth sauce and the bird's weight.
Reviews of Thanksgiving Turkey
September 22 2014

I tried this turkey last week. It was moist and juicy and the taste was great. I cooked it, as you said, breast down on a wire rack in a roasting pan. The last 15 minutes I turned it over to brown a bit more on the breast. The breast had some grooves from the rack so I carved everything on a platter before guests arrived. It has been a whle since I have made a turkey. I was a bit nervous using a new recipe for a large family gathering. But everyone loved it!!! Every bite of breast meat was tender and juicy. I will never cook a turkey right-side-up again. Thanks for sharing your recipe!!

maggie2

(2 reviews)

 
More Delicious Recipe Ideas from NeedARecipe.com
What To Eat Tonight

65 Piles of Pasta, Rice & Noodles
Pasta, Rice and Noodles don't have to be plain and ordinary. In fact there are many complex dishes using these versatile ingredients.

385 Super Summer Recipes
No time like the summer for those lovely light meals that can be quickly prepared. Get some sunshine into your life with some great recipes.
340 Family Dinners
Delicious hand-picked meals that were made for sharing. Your family is special so they deserve something special, don't they!
Other Turkey Recipes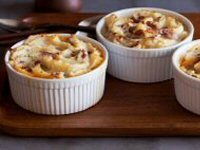 Turkey Catcher's Pie
Turkey Catcher's Pie> is one of the dishes I often "knock up" on a whim for a light lunch. It's particularly good if we have uninvited guests.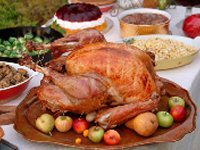 Thanksgiving Turkey
For North Americans, Thanksgiving is one of the year's milestones, and Thanksgiving wouldn't be Thanksgiving without the Thanksgiving Turkey.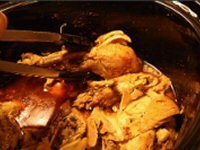 Tasty Turkey Portions
The only problem with turkey is its size! If you are alone or with just a small family, a whole turkey can be a daunting affair. Here's the answer...
Recipes That Are Trending Now