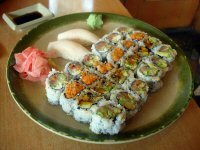 Preparation Time: 30 Minutes
Ingredients for Maki Sushi


Currently displaying quantities in
US Imperial
Measurements
to serve 4:
4 cups
cold Japanese Sushi Rice
various fillings of your choice
pickled ginger
2 teaspoons
wasabi paste
dark soy sauce
How to Cook Maki Sushi
First of all, lay a sheet of Nori on a flat worktop. Sushi is 60% visual so keep it as simple as possible. The more you touch and poke the ingredients, the more you alter the natural appearance and flavor of the sushi.

There is a very exact tradition of spreading the rice on the Nori that sushi chefs have studied for years. It's claimed that sushi masters can place the rice on the Nori and have all the rice grains laying the same direction (Hmmmm!). However, the principle is to spread Sushi Rice about the size of a tennis ball on the Nori without squashing the rice. Rice consists of individual grains (even when they hold together) and should be kept that way.

You should then place the sushi ingredients thinly across the middle of the nori. Go easy until you get the hang of it. If you put too many ingredients in the middle, you will have a hard time rolling the sushi, which you should now do, using your hands to gently form a 'sausage of rice' surrounded by Nori.

After you have rolled up the Sushi Rice, nori and ingredients, place a slightly wet sushi mat (you can get these at any Asian food store, or online) over the rolled up sushi and press evenly and gently, sliding your hands from side to middle. The idea is to create either an even circle or a square shape with your fingers. Press gently on all sides and, at the same time, in the middle. Then do the same on the outer edges of the sushi roll and then again in the middle until you have a good shape for the whole length.

Now all you have to do is cut the sushi into lengths. I've found the easiest way is to slightly wet the blade of a sharp knife and then cut right in the middle of the sushi roll. Bring the two halves side by side and then cut the two sections into equal thirds. That way you will get six even size pieces in only 3 cuts.

Place your sushi on a decorative plate or platter. Garnish with wasabi, pickled ginger and serve with a little soy sauce on the side for dipping.

Some ideas for fillings are:
Crab, Avocado, Cucumber, Tobiko (flying fish roe)
Unagi (freshwater eel), Avocado, Carrots, Sesame seeds
Shrimp, Avocado, Cucumber, Onions
Smoked Salmon, Avocado, Cucumber
Shrimp, Avocado, Cucumber, Cilantro (coriander), Hot Pepper
Shrimp, Avocado, Cucumber, Basil
VEGETARIAN:
Sweet Tofu Pouches stuffed with Cucumber, Carrot, Onion
Sweet Tofu, Avocado, Carrots
Sweet Tofu, Avocado, Macadamia Nuts
Sweet Tofu, Carrots, Cilantro (coriander), Crushed Peanuts, Garlic Powder, Hot Pepper
Avocado, Cucumber, Carrot, Sesame seeds
Avocado, Bell Pepper, Carrots, Cucumber, Cilantro (coriander)

Other ingredients you can use are: deep-fried tofu, pickled daikon (Japanese radish), seasoned gourd strips, shiitake mushrooms, asparagus (cooked), red bell peppers, sun dried tomatoes.

Try to pick contrasting colors; this is important because it makes the sushi appear vibrant and interesting. Use a rich red tuna beside a yellow omelet, or next to the green hues of an avocado or a cucumber. Be creative!
GRAHAM'S HOT TIP:
If you want to make a Uramaki "Inside out roll", after spreading the rice on the Nori, just flip the nori/rice sheet over and place the ingredients on the other side. When you roll it up, keep the rice on the outside and the ingredients on the inside.
 
More Delicious Recipe Ideas from NeedARecipe.com
What To Eat Tonight

65 Piles of Pasta, Rice & Noodles
Pasta, Rice and Noodles don't have to be plain and ordinary. In fact there are many complex dishes using these versatile ingredients.
1 Hall of Fame Recipes
Hall of Fame is a very rare accolade that we offer only to the ultimate recipes that deliver something very special. Not many make it!
150 Healthy Recipes
Just because it's healthy doesn't mean it needs to be boring and tasteless! Take a look at out healthy recipes for some great ideas.
Other Rice Recipes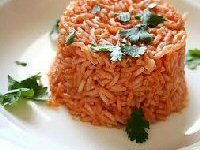 Tomato Rice
Of South Indian origin, tangy Tomato Rice makes a great one-dish meal, particularly when served with poppadums. It is a simple to prepare too.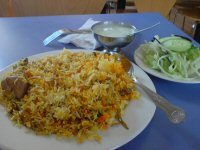 Chicken Biryani
Biryani is a set of rice-based foods made with spices, rice (usually basmati) and meat, fish, eggs or vegetables.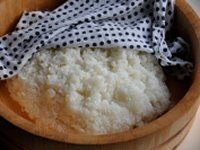 Japanese Sushi Rice
Here is a nice simple recipe for making sushi rice. Japanese rice is short grain and becomes slightly sticky when it is cooked.