STARTERS AND APPETIZERS

What To Eat Tonight

58 Oven-Baked Dinners
No mess, no fuss, just throw it in the oven and leave it alone till it's ready to eat. That's the approximate theory! How close do we get?

25 Ways with Chicken Breasts
Chicken breasts are thought by some people as being dry yet, properly prepared and cooked, nothing could be further from the truth.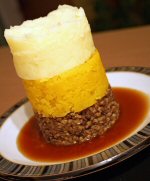 96 Unusual Recipes
There are lots of recipes for some foods, but here we offer a selection of recipes that are truly out of the ordinary. You'll be amazed.